Ⓘ
Machine translations by Deepl
Jubilee debate night Privacy First 16 May!
To mark its 15th anniversary, Privacy First Foundation is holding a special debate night on 16 May!
Tom Jessen presents this evening with special speakers and the theme: "Privacy of the Future".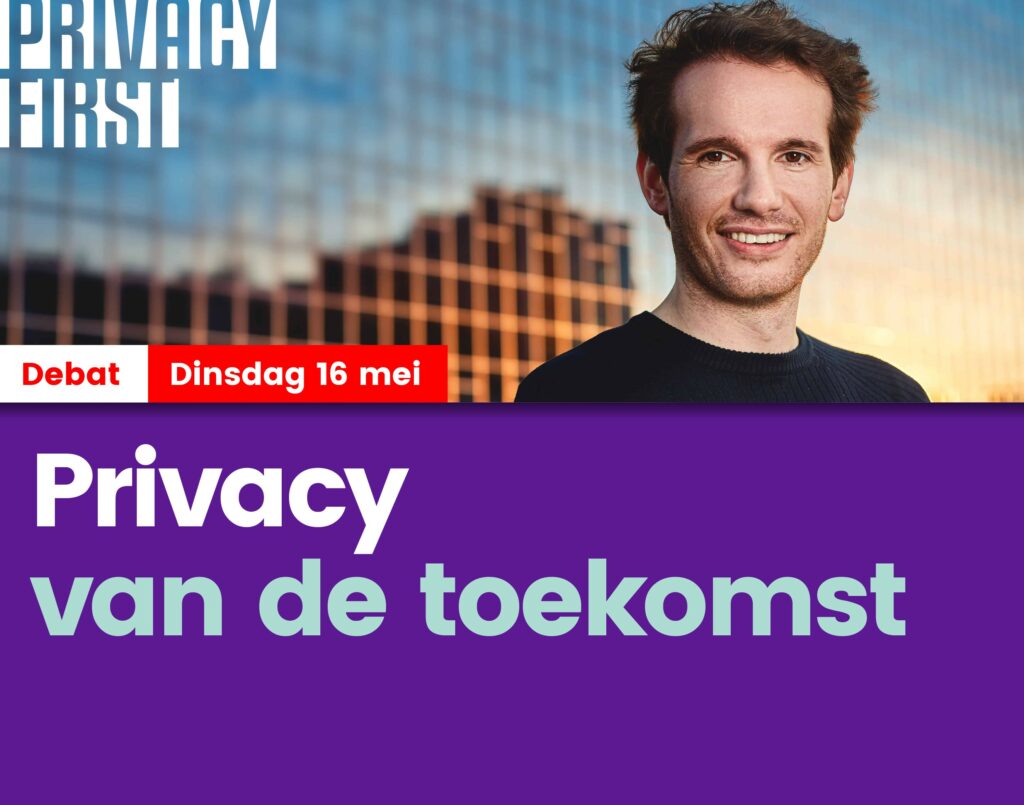 Four leading speakers will shine their light on the topic this evening. They will do so from different angles with their own vision and view of the future in dialogue with the audience. We will also reflect on the 15th anniversary of Privacy First and together with the audience we will look at the Future of Privacy.
Speakers: 
Guido Visman - Lecturer in IT law at the University of Groningen and board member Privacy First
Specialising in privacy and data protection and collective redress under the AVG. Graduated from Groningen and also worked for 25 years as an IT entrepreneur. From his roles, Guido addresses the topic and urges the government to handle it carefully in the context of our rule of law and democracy.
Arda Gerkens - Senator Senate (SP) and director-director expertise bureau Online Child Abuse
Active at the intersection of the digital world and society and stands up for children's safety. Arda discusses creating a safe internet environment for our children and what it takes to do so.
Marie-José Hoefmans - Founding-member of Schluss and speaker
With Schluss, Marie-José realises a world where your data belongs to you again. Winner of the Dutch Privacy Award 2021 and participant in the Privacy Coalition, Marie-José reflects on individual ownership of your own data and outlines the preconditions for realising data sovereignty.
Freek Bomhof - Senior consultant 'responsible data sharing' at TNO
Privacy Enhancing Technologies (PETs) are solutions to handle sensitive data without the risk of data breaches. Freek discusses possible technical solutions in line with the AVG.
Time: Tuesday 16 May 2023, 8pm - 10pm (walk-in from 7.30pm, drinks afterwards).
Location: The Eagle, Abcoude.
Register in good time via this link.
This event is free and includes a consumption.
Privacy First proposes a donation on price!