Ⓘ
Machine translations by Deepl
Connected cars: the key players
What do software companies, insurers, garage owners and the Department of Public Works have in common? And chip manufacturers with consulting firms? Little to nothing between them, but together with other companies, governments and research institutions, they are each in their own way part of the extensive ecosystem around connected cars. In other words, cars that are connected to the internet and transmit their data to the manufacturer. In view of upcoming articles on this website, it is useful to list the main players within this system. Or, as below, position along the points of a star.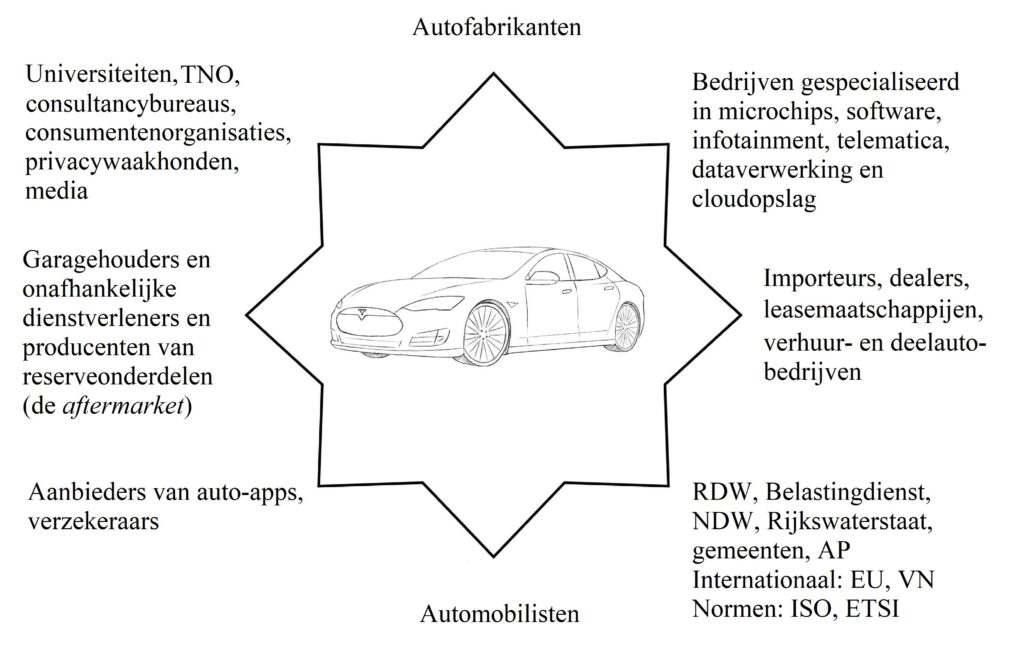 Of course, there are more parties than we mention here. For example, the category of 'suppliers' is much larger than indicated here. However, we focus on the main players, leaving out, for example, makers of mechanical parts. As well as the suppliers of subcontractors. Otherwise, our description of the ecosystem would expand infinitely.
Clockwise, the parties from the above diagram fall into the following categories: car manufacturers, suppliers, distributors, governments, motorists, service providers, the aftermarket and the research angle. Below is a discussion of all these players.
1. Car manufacturers
OEMs
For more than a hundred years, car manufacturers (Original Equipment Manufacturers, OEMs) specialist in steel and internal combustion engines. But times (and the climate) are changing; electric driving is slowly becoming the norm and, especially with the advent of all kinds of Advanced Driver Assistance Systems (ADAS), software is increasingly dominating. This requires a different type of hardware and an increasing number of microchips with great computing power.
The departure from the internal combustion engine and the transition to battery cars has major implications for employment within the industry: many jobs are at risk at car manufacturers and, in particular, suppliers. At the end of February Ford announced to cut 3,800 jobs in Europe, most of them in Germany. On the continent, that is the car-manufacturing country par excellence: it employs 800,000 people in the sector, which generates an annual turnover of €400 billion.
As a result of mergers and acquisitions, few independent car brands remain. Most (well-known) brands are now part of a group. Meanwhile, many lesser-known Chinese brands like Geely and BYD (Build Your Dreams) are making inroads in Europe, and the likes of MG and Volvo are in Chinese hands.
Captive finance
Virtually all major car manufacturers have a financial arm that offers insurance and lends money to their own customers. This so-called captive finance has been commonplace within the industry for years.
Advocates
In Europe, the car industry is represented by the European Automobile Manufacturers' Association (ACEA), in the Netherlands by the RAI Association.
2. Suppliers
Chip manufacturers and software developers
Car manufacturers are far from making all car parts themselves, and are surrounded by numerous suppliers ('Tier-1'), which in turn are also supplied ('Tier-2', 'Tier-3'). Cars are packed with computers, and chips are the most important part of them. One of the biggest obstacles currently facing manufacturers is the global and ongoing chip shortages. The lack of semiconductors has not only led to millions of fewer cars rolled off the assembly line, manufacturers were also forced to market cars that are not connected.
Due to cost considerations or lack of expertise in-house car brands are relying to a considerable extent on external parties developing car software (including information and entertainment systems), or providing cyber security. Already, personal vehicles have more than four times as many lines of programming language than a commercial airliner, and - on the road to self-driving cars - that amount of lines will increase another 10,000 times in the coming years, so quantified experts from German automotive software company Etas.
As a software builder, Google in particular occupies an increasingly prominent position within the automotive sector. Volvo (Polestar) and Renault already opted for a full Android operating system for their electric cars. As part of a new software strategy, Mercedes-Benz recently announced to choosing Google Maps and thus passed Here Technologies (headquartered in Eindhoven, but owned by German carmakers, including, nota bene, Mercedes itself).
Telematics companies
Telematics, the contraction of telecommunications and computer science, is simply about transferring information between different locations using a particular connection. This can be a computer network, a data or telephone link or, for example, satellite communication.
Telematics in cars facilitates things like navigation, eCall (automatic 112 call in case of an accident), driver assistance systems and, for example, connection to your personal app (Toyota MyT, My BMW App, etc.). The heart of telematics is the Telematics Control Unit (TCU), which is equipped with a SIM card and provides connection to the car manufacturer's cloud. There are numerous companies offering hardware and software to get data to and from the car. This communication is over 4G or 5G which also allows for telecom companies an indispensable role.
All data sent from a car are linked to the Vehicle Identification Number (VIN) and are thus classified as personal information, at least according to privacy advocates and also many a lawyer.
Due to a lack of 06 numbers, the Consumer & Market Authority (ACM) has ruled that autonomous devices that automatically communicate with each other (Machine to Machine, 'M2M'), such as connected cars, in the Netherlands must have SIM cards with 097 numbers should have.
A car may be connected to the internet, but that does not mean you can use it as a driver. The telematics system is a completely separate domain. If you want to be connected on the road, you can use your phone and connect it to the on-board computer, or buy a data only-subscription exit and then install the 097 SIM card in your car. The latter can only be done in the latest car models.
Cloud storage service providers and data processors
The massive amounts of data that hundreds of millions of cars produce end up primarily in the cloud that manufacturers keep in the air with their own servers, or in the cloud of Big Tech companies such as Amazon. This data is not directly usable by various third parties who want to take such data from car manufacturers.
This has created a market of companies (data hubs) that focus on smoothing the zeros and ones, so to speak, and turning them into useful information packages. The manufacturers retain ownership of the data; indeed, the processors they engage with are merely processors.
That being said, in addition to technical data, these companies also get access to personal data. By no means every motorist is aware of this.
One of the best-known data processors in this field is Israeli-origin Otonomo. That company was worth over a billion dollars not long ago, but lost 95% of its stock market value in a relatively short time, laid off much of its staff last year and last month acquired by Urgently, a US company specialising in digital mobility and roadside assistance.
3. Distributors
Importers and dealers
These have traditionally been in the middle of the 'brand column', which starts with the car manufacturer and ends with the customer. Importers are the primary representatives of a car brand in a country. In 2021, Kia Netherlands and the Ministry of Infrastructure & Water Management did a joint research On the added value of vehicle data. The number one car importer in the Netherlands is Pon, which as a large multinational has a variety of companies under it, including Greenwheels.
Among other things, dealers do maintenance, for which they need vehicle data, but manufacturers are not always keen on making that data available.
The number of importers and dealers has declined over the years, and to save costs, manufacturers are increasingly inclined to deliver directly to customers and interact directly with them.
Leasing, rental and share car companies
These are parties that purchase large numbers of cars and make them available to companies or individuals in various ways. For the benefit of fleet management (or managing their cars), they would like to know what condition their vehicles are in and, in some cases, where they are. Data processors and telematics companies offer the opportunity to do so, but are car manufacturers always willing to hand over that data?
Car ownership is no longer taken for granted for younger generations, and new housing estates and city centres are not infrequently car-free. Share car providers such as Greenwheels, MyWheels or SnappCar may not yet be profitable but are growing fast and are more popular than ever. With a different rider each time leaving a data trail in the car (possibly visible on the on-board computer), in the absence of proper policies, privacy is an additional concern.
4. Governments
RDW
Rijksdienst voor het Wegverkeer (RDW) is an independent administrative body that approves vehicles and issues driving licences and license plates in the Netherlands. The RDW shares data with the Inland Revenue, which imposes motor vehicle tax.
NDW
Within the National Data Portal Road Traffic (NDW), Dutch provinces, municipalities and Rijkswaterstaat work together to buy, enrich, store and distribute mobility data. This mostly involves aggregated vehicle data that car manufacturers are obliged by the EU to hand over for the purpose of safe traffic and congestion.
Rijkswaterstaat
The executive agency of the Ministry of Infrastructure & Water Management's responsibilities include traffic management and road maintenance. To ensure in the Netherlands smart mobility Rijkswaterstaat is increasingly leaning on vehicle data, either directly from cars or from phones (popular car apps) used while driving.
Large municipalities
As road authorities, these purchase vehicle and driving behaviour data to understand traffic density and dangerous road situations. They are also responsible for installing public charging stations. The number of charging points should increase from 55,000 to 1.7 million in seven years. The development of cars that are electric and connected to the internet is largely parallel. Still, out of a total of 8.8 million passenger cars in the Netherlands, the number of electric cars is only small at present. The government expects the number of electric cars to rise to 1.9 million by 2030.
AP
The Personal Data Authority (AP) investigates privacy violations and holds governments and companies accountable for them. In 2020, the AP released a manual out to ensure your privacy in a connected car, as far as possible. Last month Tesla changed its policy after the AP launched an investigation into this car brand's camera settings.
Under the General Data Processing Regulation (AVG), consumers (car owners) have rights to information, inspection, rectification, oblivion and data portability, among others. If, as a car owner, you have a complaint about how a car manufacturer handles your data, you can in principle go to the AP. But since the headquarters of almost all car manufacturers are located outside the Netherlands, in most cases the AP will at most be able to refer the complaint to the AP in another country.
The European Commission
It outlines long-term European policies in every conceivable area, from environment and digitalisation to mobility (Intelligent Transport Systems, ITS) and consumer protection. Policies from Brussels often have far-reaching consequences for the commercial players within the connected car ecosystem. These all lobby lustily to promote their own interests. The car industry sits on more than 20 European Commission expert groups dealing with specific policy areas. For example: the Expert group on cooperative, connected, automated and autonomous mobility.
The European policy mill is viscous and before legislation - after intervention by the European Parliament and the European Council - finally sees the light of day, years may have passed. Countries can start to stall, even after reaching an agreement. This is exactly what Germany, Italy, Poland and Bulgaria are now doing with regard to the agreement reached in October 2022 to - as part of the European Green Deal - to phase out new passenger cars with combustion engines by 2035. To protect their automobile industries, these countries are now throwing a blockade on.
EDPB
Specifically in the context of connected cars, the European Data Protection Board (EDPB) has provided guidelines with regard to the processing of personal data arising from vehicles.
Other international bodies
On the regulatory front, there is also the United Nations European Economic Commission (UNECE), within which countries agreeing on vehicle regulations while the International Organisation for Standardisation (ISO) and, for example, the European Telecommunications and Standardisation Institute (ETSI) set all kinds of technical standards, quality requirements and guidelines, which also apply to the automotive industry. Many car manufacturers are members of ETSI. Companies cannot become members of ISO.
5. Motorists
You would almost forget it by now, but halfway through the ecosystem star we have finally arrived at the motorist.
With more and more driving assistance systems on board, actual driving is being made easier and easier, although not every driver knows how to make (full) use of these systems. In addition, cars are equipped with more and more gadgets. Latest of the latest: the car that allows you to enter the car based on a fingerprint pay for onboard infotainment services (introduced in some new Mercedes-Benz models).
In terms of comfort and convenience, the customer is undoubtedly king. However, when it comes to taking control of one's own vehicle data (including personal data), the motorist is not exactly in the driving seat despite the AVG and the EDBP's guidelines. driver's seat. Surely it is mainly the car manufacturers who determine what happens to that data.
6. Service providers
Suppliers of traffic information and navigation apps
How many motorists would still drive from A to B without ever using traffic information and navigation apps like Google Maps, Waze, TomTom MyDrive, or Flitzmeister? The data generated from these apps are resold anonymously. Whether in cooperation with app builders or not, car manufacturers are increasingly integrating this kind of - and other - service into the cars themselves. Navigation boxes and dongles will eventually become a thing of the past.
Talking about car apps: there are also apps that should actually minimise the use of your phone while driving (distraction!).
Insurers
Having car insurance is compulsory. Insurers have been offering insurance policies for years where you get a discount on your premium if you drive safely and are willing to submit your driving records in real-time share. The Consumers' Association has several such driving insurance policies in the Netherlands compared and assessed. One major provider is ANWB, which - like the app builders just mentioned - displays the behavioural data of its plusminus 70,000 policyholders offers to municipalities, among others (see above).
7. The aftermarket
If your car is broken, or it is time for an inspection, you can go to an independent garage nearby. The free channel, which includes manufacturers of (universal) car parts and wholesalers, is also called the aftermarket mentioned. How do local garages in particular (represented by BOVAG) remain relevant, now that, for example, software updates over the air become the new normal?
8. The research corner
Universities
Pioneering technologies often originate from university research. In collaboration with car manufacturers and others, technical universities conduct applied research into new forms of mobility and a wide range of technologies used in cars. At law schools, for example, academics look at issues such as privacy, control, data traffic and economic interests not with a technical but a legal lens.
TNO
In collaboration with industry, the Netherlands Organisation for Applied Scientific Research (TNO) is also doing research on smart vehicles.
Other organisations
Further in the research corner of the ecosystem are major consultancies, which conducts market research, and has been advising car manufacturers for years on ways to best monetise vehicle data.
In turn, they point consumer associations, privacy watchdogs and (critical) media each in their own way on the privacy dangers posed by connected cars.