Ⓘ
Machine translations by Deepl
Debate night 19 September 2023 - 'Privacy in Europe'
On 19 September, Privacy First is organising another debate evening. This time about the European laws and regulations affecting our privacy. Get inspired by the speakers and join the discussion. Admission is free.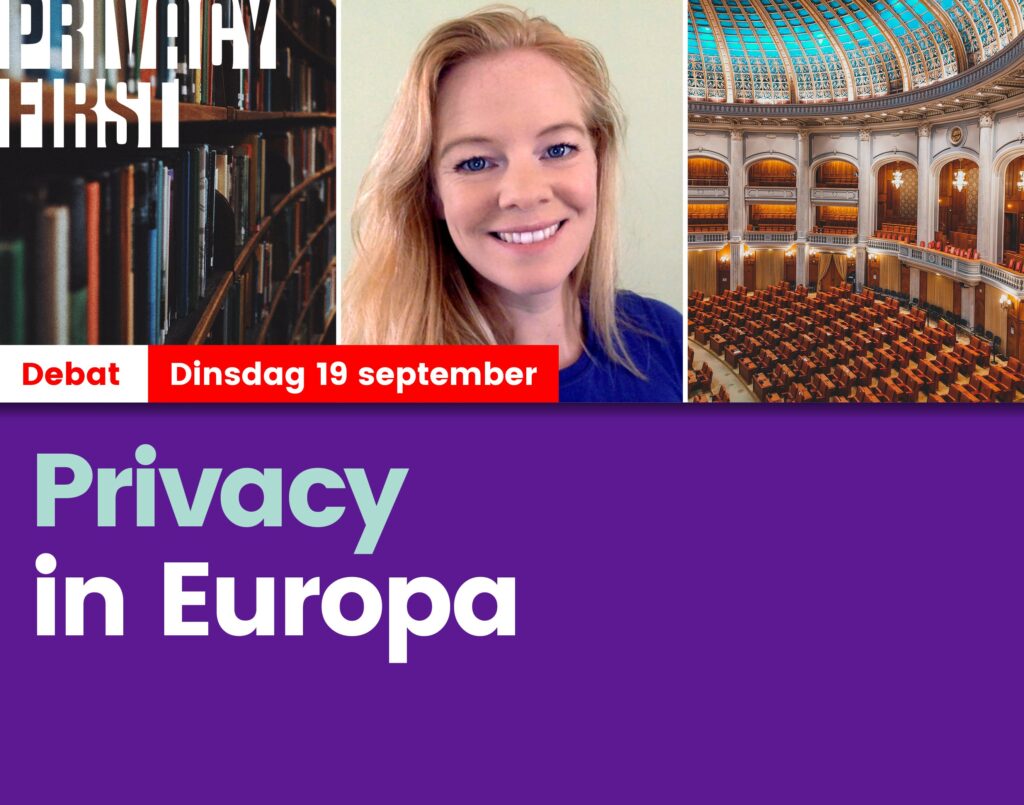 After the summer break, the Privacy First Foundation is organising another debate evening:
date and time: 19 September 2023, from 8 p.m. to 10 p.m.
location: The Eagle (Hanenbalken room, 2nd floor), Hoogstraat 37, Abcoude.
theme: 'Privacy in Europe'.
Nelleke Groen (former board member of the Privacy First Foundation) presents the evening and feels the speakers and invited guests are curious and critical about 'Privacy in Europe'.
Privacy in Europe

From Europe, there is a lot of focus on our personal data. In some cases this is desirable, but in others it raises critical questions. Such as: the proposals on Open Finance, the effects of the European Digital Health Space and the Digital Services Act. During our previous evening's debate (16 May last), views on such issues appeared to differ widely, resulting in heated debates.
Well prepared

Privacy First Foundation wants to be able to speak out clearly and well-founded on European issues. To this end, positions need to be formulated that are right and clear, after all pros and cons have been well researched and thought through. For this, we need you! At the same time, you can benefit greatly from this yourself.
Sign up

Admission is free. But please register in advance! This can be done using our online form or via our general e-mail address:
Our speakers:
Tijmen Wisman 
Tijmen Wisman worked in the past for the RFID Platform Netherlands. In 2010, he started his PhD research on privacy in EU policy for the Internet of Things (IoT). His research focused on mandatory home and car IoT systems, smart meters and eCall, and how the European Commission interprets and applies the right to privacy in its policies and legislative processes introducing these mandatory systems. His research has now been completed. Following his PhD research, Tijmen is still concerned with legislation from the EU affecting citizens' right to privacy and legal protection.
In addition to his PhD research, Tijmen has chaired the Civil Rights Platform since 2013, where he advocates for the legal protection of citizens against data-driven government. He was closely involved in the legal proceedings against the System Risk Indication (SyRI) and is currently conducting research on its successor: the Data Processing by Collaborative Groups (WGS) bill, better known as 'Super SyRI'.
Tijmen will give a presentation on the importance of European institutions for citizens' fundamental rights as well as the dangers coming from EU legislation that can undermine these same fundamental rights.
Jan Smits 
Jan Smits is emeritus professor of Law and Technology at the Faculty of Industrial Engineering & Innovation Sciences of Eindhoven University of Technology (TU/e). During the first 15 years of his appointment, his research focused mainly on (standardisation in) telecommunications and digital TV. In the last decade, his focus was on privacy protection and information security. He found that non-technical disciplines struggle at a University of Technology, as they are not core disciplines for an engineer. But it is precisely the humanities and social sciences that can add colour and richness to engineering courses. Engineering and Law touch each other in many places in society: self-driving cars, smartphones, cloud services and medical devices, for example. But in the field of technical standardisation, not lawyers, but engineers make 'laws'. Jan Smits is a great champion of fundamental rights and privacy.
Jan Smits will speak on AI and our privacy safeguards and fundamental rights on this evening.
Eliëtte Vaal

Eliëtte Vaal is founding partner at The Data Lawyers, a law firm specialising in IT and data protection law. Eliëtte is an experienced lawyer and litigator in IT, privacy and freedom of speech cases. She also advises national and international clients on complex privacy matters. Eliëtte regularly speaks at conferences and seminars and publishes in Dutch journals on internet and IT law. She chairs the privacy committee of the Nivel and is a member of the International Association of Privacy Professionals. Eliëtte was nominated by Privacy First as a board member of mass claims foundation CUIC.
Eliëtte will speak this evening on the scope of the AVG and privacy safeguards in Europe.
Jonah Walk

Jonah Walk is a doctor in training to become an internist. She obtained her PhD in malaria vaccines. Jonah is a translational researcher in immunology and infectious diseases, and in recent years has done research on lung injury in corona patients, among other things. She also has her own authentic blog at Jonawalk.com. Most know her as a spokesperson and co-initiator of The Fourth Wave. She is committed to the power of dialogue. Jonah signs off by saying, "I am just one person, I don't have the ultimate answer and many disagree with me. But I don't pretend either. I always try my utmost to distinguish between facts that have come about through the scientific process and what are my own interpretation, hypotheses and political views based on these data."
During the debate evening, Jonah will speak on medical privacy in Europe from an ethical perspective.