Ⓘ
Machine translations by Deepl
Dutch Privacy Awards 2024 - registration open, apply!
The jury of the Dutch Privacy Awards cordially invites potential Award candidates to apply for these prestigious nominations and awards (ceremony on 24 January 2024). Sponsors, media partners and volunteers are also most welcome. As well as suggestions for potential award winners.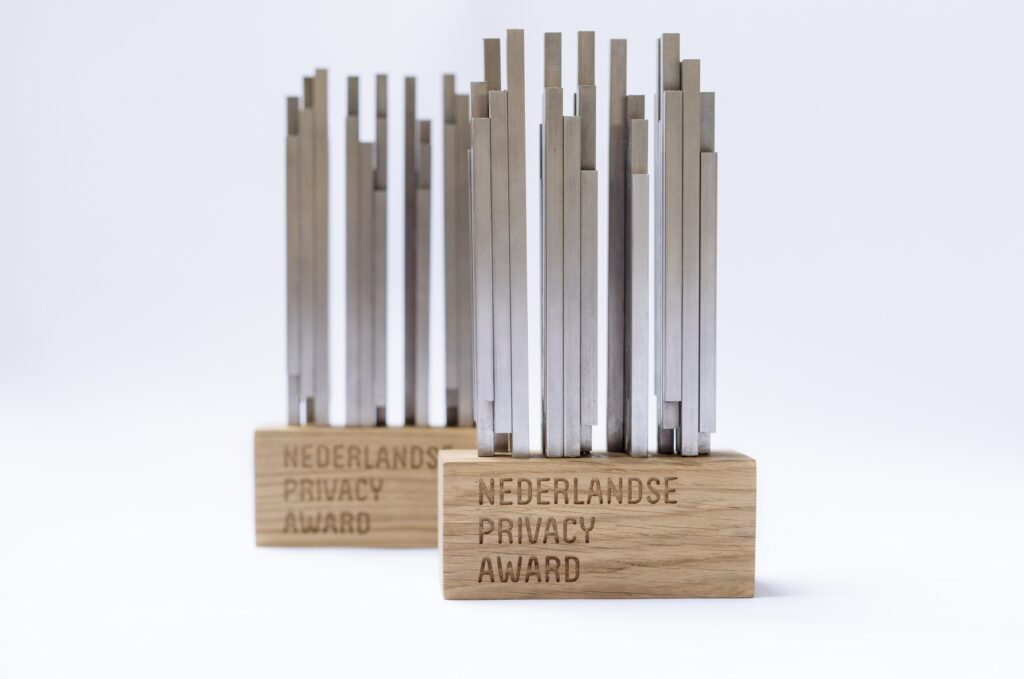 Every year, Privacy First Foundation, together with ECP (Platform for the Information Society), organises the presentation of the Dutch Privacy Awards. A professional, critical and enthusiastic jury examines privacy-aware solutions and initiatives, from companies and organisations that have privacy and information protection high on their agenda. The Dutch Privacy Awards are co-sponsored by MnP Solutions, which recently explained Why they do that.
The 2023 winners Were: MediaJungle, Anonimizer, and KinderDPIA.
Jury
The Awards jury president of the previous edition, Magdalena Magala, has now handed over the baton to Jaap van der Wel. Also on the jury are Mabel de Vries, Mathieu Paapst, Rion Rijker, Erik Bruinsma, Walter van Wijk and Magdalena Magala.
Paul Korremans, board chairman of the Privacy First Foundation, is the connecting link between the foundation and the independent jury.
Registration
Registration is now open (and closes 15 October). Entries can cover, for example, consumer solutions (from companies for consumers), business solutions (within a company or business-to-business), non-profit (government, healthcare and education) or other areas.
Entries will be assessed against the following criteria:
- what shows privacy awareness?
- what is the societal impact?
- what is the innovative factor?
- how viable is the solution (after 3 years)?
- at what level has a risk analysis been carried out?
Report your initiative to us! Who knows, maybe you will be among the nominees of the next edition, and on 24 January 2024 you will stand on the stage of the Dutch Privacy Awards with a trophy in your hands.
Register: via awards@privacyfirst.nl (subject to 'Registration Privacy Awards 2024')
Suggesting candidates
Have you seen a remarkable initiative that you think deserves a Privacy Award? Let us know about it!
Report: via awards@privacyfirst.nl (subject to 'Suggested Privacy Awards 2024')
Media and sponsorship
Would you like to become a (media) partner or sponsor of the Dutch Privacy Awards?
If so, please contact Privacy First at info@privacyfirst.nl.
Volunteers
Judging and organising the Dutch Privacy Awards involves a lot. Would you like to help us?
Please contact us at info@privacyfirst.nl (subject: 'Volunteer Privacy Awards 2024')