Ⓘ
Machine translations by Deepl
Privacy Award winners have their say
Privacy First Foundation is busy preparing for the Dutch Privacy Awards elections. This time, we reflect on last year's winners, who tell us about the current state of their projects:
Mediajungle
Anonymiser
Children's DPIA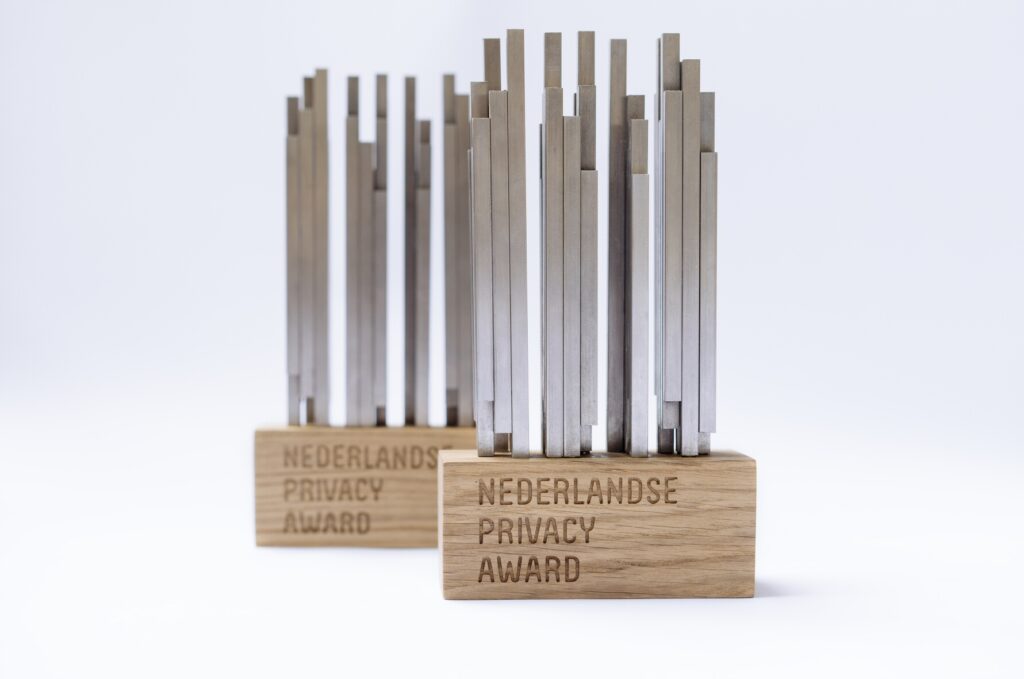 Last year, it won Mediajungle a Dutch Privacy Award, with an initiative for people with mild intellectual disabilities. Mediajungle offers various tools in a broad way to make people with mild intellectual disabilities aware of the privacy risks on the Internet. In a playful and simple way, it helps create a dialogue with this target group. Niels Bloembergen, one of the founders/entrepreneurs of Mediajungle, who himself comes from a care background:
"These people, without being aware of it, are quickly perpetrator or victim of their own act, or they are instigated to do something by another person, the consequences of which they cannot see".
When we asked Niels, how Mediajungle's initiatives are doing now:
"We are doing well. We are growing very fast and continuing to develop. Besides manifesting ourselves in healthcare, we are now also manifesting ourselves hard in education. We are working with many partners, such as the SIDN Fund and Network Media, with whom we are now developing a platform. We are also working with the Ministry of the Interior on a project. We also always work closely with the target audience to see if our products fit in."
On what the Dutch Privacy Award has brought them, Niels replies: "It helps a lot with exposure. Winning the award got our own attention and it is easier to present yourself to other "official" parties when others have externally judged your meat. It then gives more self-confidence and persuasion to make others warm to your ideas".
Anonymiser (from Bolesian) is an approachable tool to automatically publish documents, photos and videos securely privacy-proof. Anonimizer uses AI software and can anonymise large amounts of documents, as well as photos and videos, in very high quality. We asked Asmar Berg How Anonimizer has fared since winning the Privacy Award:
"It is really great to be rewarded with this award for all our developments to protect people's privacy. Also great that more and more organisations are using Anonimizer to publish information privacy-proof. However, we are not sitting still and there are already some great new developments on the way. For instance, we will soon come out with a new application focused on ChatGPT. There is a lot to do around ChatGPT in relation to privacy. For example, many people use ChatGPT to summarise texts. Those texts often contain personal data. We are coming up with a web service that allows to automatically mask privacy-sensitive data in texts before they are submitted to ChatGPT. After processing by ChatGPT, we automatically put the original data back into your text so that the story is correct again. This way, you prevent ChatGPT from making off with all kinds of personal data. Something else that is planned is the new FaceBlur app for teacher training. Together with Fontys Sports College, we have developed a prototype for recording lesson situations in teacher training programmes. When practising classroom situations, the student teaching should remain visible. However, the students in the class should be masked to protect their privacy. We have developed a way to blur only the students who are in the class. This way, a trainee teacher can be properly assessed while we ensure the privacy of the students in the class."

Finally, the Children's DPIA an incentive award. Privacy at School developed a Children's DPIA for viewing software on children's screens at school. The Children's DPIA examines the impact of such software on privacy and other children's rights. Questions to be addressed include how to prevent children from still being monitored via the screen at home and/or in the evening, and whether a notification for turning on or off makes children sufficiently aware of being watched by the teacher. Doing a Children's DPIA helps raise awareness of privacy and children's rights among school children. We asked Evelijn Jeunink of Privacy at School how things are going now:
"After winning the incentive prize for the Children's DPIA, we continued to develop the Children's DPIA. We have found a primary school willing to work with us to carry out the Children's DPIA on the monitoring software deployed by the school. This practical experience provides input for further refinement and development.
Asked if it brought anything, she replied: "Definitely. We have received many enthusiastic responses and congratulations. The interest in the concept of a children's rights DPIA is definitely there. For instance, we have been asked to participate in the expert group for the development of the Children's Rights Impact Assessment (currently being prepared by Leiden University and Considerati). The target group we work for, schools in PO and VO, endorse the importance but cannot always free up time and resources to do (or have done) a Children's DPIA. We can then use the Children's DPIA to enrich the standard DPIA. The same goes for involving children. Organising sessions with children as we do in the Children's DPIA is not always feasible. However, we can encourage schools in a standard DPIA to pay more attention to this aspect and bring in our experience with it. Another angle we are exploring is to interest suppliers who, for example, supply viewing software to schools to participate in a Children's DPIA on their product."
Are you also forward-thinking when it comes to privacy? Take a look at the new Privacy Awards page on our website: Dutch Privacy Awards (privacyfirst.nl). Would you like to participate with your organisation in the upcoming Dutch Privacy Awards 2024, which we will organise in cooperation with ECP (Platform for the Information Society) during the National Privacy Conference on 24 January 2024? You can register to participate at awards@privacyfirst.nl !